Creating a New List
You can create a new list two ways
From Scratch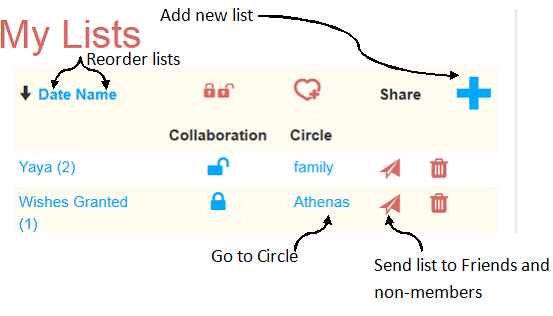 Once you are logged into Udorami, click on My Lists
Click on the BIG

BLUE

plus sign
Type what you would like to call your new list in the Name field.
Check the Collaboration box if you anticipate others being able to add items to this list (this can also be changed later).
Choose the Circle for this list in order to designate who will be able to see this list. If you don't want anyone to be able to see it (aka a Private list), then choose the "Just Me" Circle.
If this list is associated with an event that comes along with a deadline (for example, a birthday or a project due date), you can choose to add a date.

To do this, uncheck the "Untimed Event" box. Several fields will appear allowing you to add the date you'd like to associate with this list.

Finally, hit the Save list button.
Clone or Copy a list
If you like a friend's list or another you already have, simply clone it!