How do I assign a circle to a list?
Every time you create a list, you assign a circle during the process. See example below: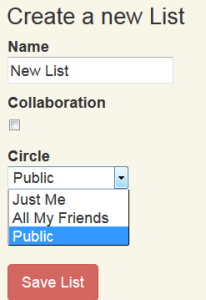 There is a pulldown menu under Circle. Initially it says "Public". It will contain your available Circle names as choices. Select it and voila your list belongs to that Circle.
Please note that you are given three choices from the beginning, Public, All My Friends, and Just Me. These are self explanatory, we hope.
As you create circles, your choices expand.
If you need to edit the circle assigned to the list, then go to the list and select the blue pencil. Make and save your changes
That's it!