Summer is coming! As I am writing this post, I am wiggling my toes to keep the blood flowing because I am stubborn and refuse to put on real shoes. It's flip flop season, d*****t!  Even if you have come across this post late in the year (LOL at you thinking I'm a total nut-case for wearing flip flops if you're reading this in December…it's March in New Mexico, I'm not that crazy, I promise!) save this list and add these items to your class list ASAP…It will ensure that you are prepared for the opportunity when it comes.
We all know kids get antsy after spring break. They are paying attention to you like squirrels at a rave because summer is next. But your job is to educate…so it's time to get creative. Enter: Science Project – Plant Mobile OR Garden in the Sky.
What you'll need:  Recycled plastic bottles, paint in plenty of funky colors (opt.), twine or string, hole puncher, scissors, gravel, potting soil, and a variety of starter plants.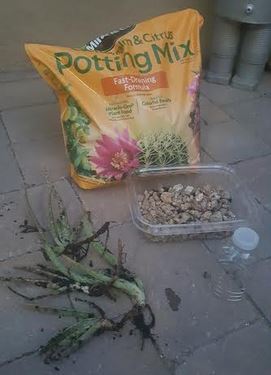 1. Cut bottle
Have the students cut their recycled bottles 2/3 of the way down from the top— the part with the cap of the bottle will be the new planter. Feel free to use the bottoms of the bottles for additional planters, or send them to the recycling bin.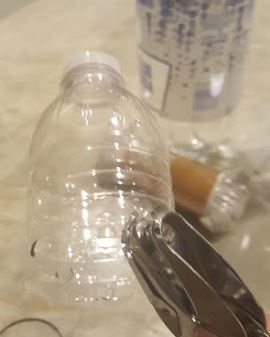 2. Punch holes
Hole punch four holes around the tops of the planters. This is where the string will tie to the planter for hanging, so make them as evenly spaced as possible.
3. Tempera Paint (opt)
Painting the bottle adds another layer of complexity, but it sure is fun! The root system also likes the dark, and if you leave a band at the bottom (near lid) unpainted you can also check for watering needs,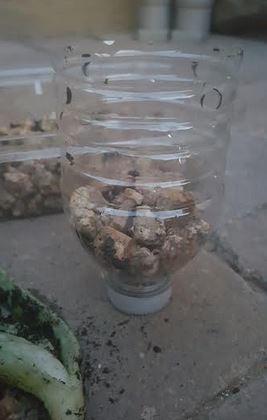 4. Fill with gravel
Begin planting! Fill one-third of the planter with loose, clean, gravel or small rocks. This will allow for plenty of room for drainage in case of overwatering.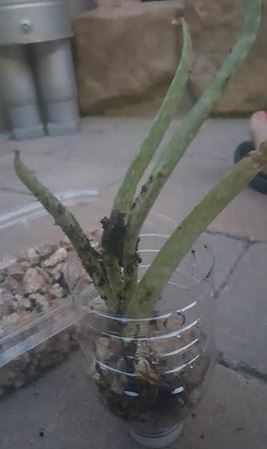 5. Add some soil, then plant
Add potting soil to the top of the gravel. Leave enough room for the starter plant to fit comfortably. OR if planting succulents (highly recommended to cut down on watering needs), a half/half mix of potting soil and sand. THEN add plant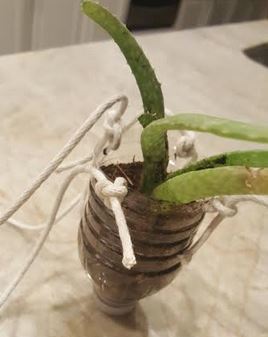 6. Add final soil
Add starter plant of student choice, and pack in sides and top with remaining soil.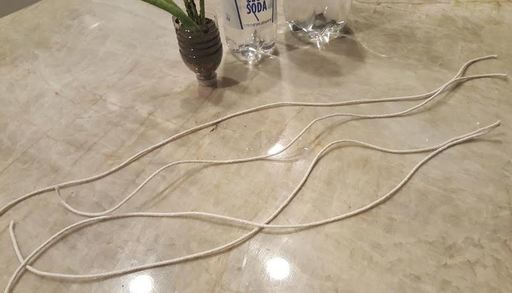 7. Tie string
Have the students pick a partner to help tie hanging string to their planters.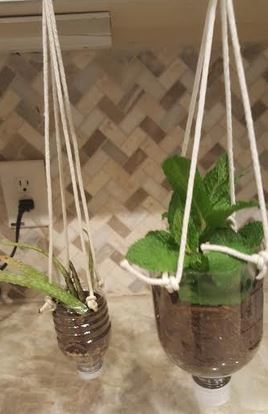 8. Hang planters!
Use various size bottles so students can plant succulents and/or herbs. The small bottles are great for sprouting bean seeds. Easy for younger students to cut and fill. Mid and large bottles could be used to grow a lettuce or celery stalk that was going to be thrown away or to grow garlic or green onions. Look further in this list for a link.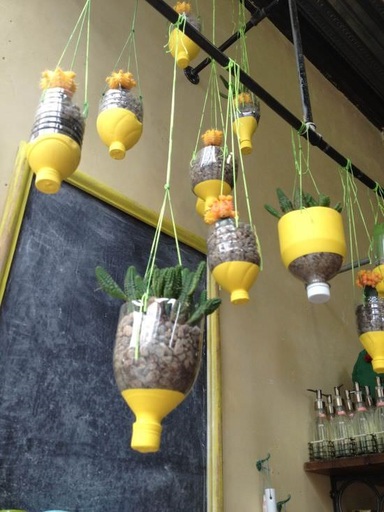 Hanging ideas
Plants can be hung on a suspended discarded shower rod by placing the ends on blocks. The planters can easily and quickly be moved in the classroom. They could also be placed at eye level so students could measure and make observations with ease. OR, as in this picture - hung on exposed water pipes in an older building.
Besides offering a great science lesson, these planters will help to teach responsibility and great observation skills! Our hats are off to teachers who teach and entertain. We hope to make your lives a little easier with some great ideas that help you teach valuable lessons (horticulture, anyone? In that spirit, we've attached a Udorami list of all the supplies and tools you'll need — and even threw in a lesson plan! Check it out here.
P.S. We know what you're wondering, and if we'd seen "free" anywhere, we wouldn't forget it either. With Udorami, we make it easy to find the things you need, and even easier for you to let other people know what you need. Right now, if you had already signed up for a Udorami profile, you could save this list and a notice would be sent to everyone that follows you! (Hint: we're talking about student parents, your parents, husbands, boyfriends, the limit is endless!) But it's not too late, join today, copy the list, and add some friends—we'll take care of the rest.
xo,
Udorami