Include the family in some decision-making! My husband and I rarely collaborated on design projects, but he enjoyed this light fixture change because it was so easy! I scouted on-line for products and included my ranking of them. He marked the ones fitting our budget. I made the purchases and included pertinent notes in the edited items' descriptions. He installed. I took pictures. Perfect teamwork!
Bathroom Lights
by Athena Christodoulou
48" Wide Bathroom Fixture- Original
The original fixtures. We wanted to replace halogen lighting without sacrificing design. These are the original lights, but they heated up the bathroom so much in the summer and use 400 W of electricity.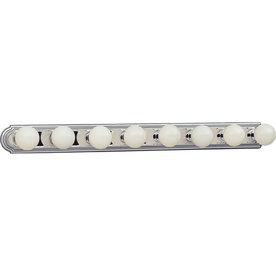 Installed!
We used all LED bulbs and cut energy usage by almost 90%! Next up, add some color!

Install 2
Upstairs bathroom complete. Ok, I know I broke consistency rules, but honestly, that style works in there. Now to work on color again. We used a mix of incandescent and LEDs until we could afford full replacement. We save a bunch on power bills and are also doing something good for the environment.