We're going to be grandparents!  And as you can see, it's going to be a girl.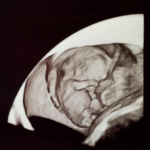 But my son and his wife live out of town. Both are working long and hard and didn't see a need for a baby shower. Plus she's working for the very male-dominated field of gaming and it isn't likely they will throw a shower.
I begged my son to put together a list and he did. We got them exactly what they think they need. Don't worry, when we visit I'll go through everything with her mother and we'll make sure it is truly complete. I copied the list with all my son's comments for you to get the idea.